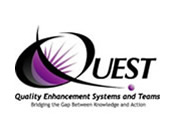 Quality Enhancement Systems and Teams
Dr. Suarez served as the Executive Director of the undergraduate Quality Enhancement Systems and Teams Honors Fellows Program, called QUEST. QUEST emphasizes the theory of learning by doing, and offers a platform for students to work as teams in developing real-world solutions and value creation for business and government clients.
The QUEST program is multi-disciplinary, drawing students from the Colleges of Smith, Clark, and Computer, Mathematical, and Physical Sciences.
Dr. Suarez also served as advisor to the student team's and their collaboration resulted in patents; achieving top ten finalists in the national Ecomagination challenge sponsored by GE and MTVu, and developing a nonprofit that supports children living in orphanages throughout Ukraine. Among other accomplishments, he established the QUEST Consulting conference, a public conference in which corporate clients, students, families and the academic community at large are exposed to the innovative and insightful contributions of the student teams.
Dr. Suarez emphasizes innovation in his classroom. He asks that the students challenge assumptions, scout the future and engage in the process of idealization as they develop their projects. In this way, innovative solutions to a problem or opportunity are explored, with the aim of adding pragmatic value.
Dr. Suarez taught a wide range of courses in QUEST that included Introduction to Design and Quality, Systems Thinking for Managerial Decision Making, Total Quality Practice, Total Quality Management, and Six Sigma. For consecutive years, he has received one of Smith School's "Top 15% Faculty Awards," and, in 2008, its Allen J. Krowe Award for Teaching Excellence.