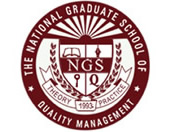 The National Graduate School
of Quality Management
Dr. Suarez served as Chief Academic Officer for The National Graduate School for Quality Management. The school is headquartered in Falmouth, MA, but with locations throughout the country.
A major goal of the school is to provide graduate-level education in quality systems management as well as practical application in the real world. It also offers certification programs in Homeland Security, Project Management, and Six Sigma.
Sponsors from all settings—business, government, education, healthcare, profit and nonprofit—engage with student teams to analyze their key business processes with the aim of increasing productivity and improving quality through tested change.
As Chief Academic Officer, Suarez's scope ranged, from governance to re-accreditation to overseeing the school's curriculum and evaluating faculty performance.
He led the development of the school's overarching academic vision, including the development of a framework that directs research into best practices that benefit private, public sector, government and military organizations. He Developed and briefed the institution's growth and expansion strategy to the Board of Directors and lead expansion efforts to bring the school to the State of California. He co-led the first national rollout and was instrumental in creating degree programs at Boeing, United Technologies, and the U.S. Coast Guard.
Dr. Suarez led the establishment of the academic infrastructure at new sites by working with political leaders, corporate and military partners, and the local community to ensure a smooth integration of the school at each site and proper compliance with the state licensure requirements. He represented the institution at the New England Association of Schools and Colleges to ensure compliance with accreditation guidelines and led the institution through re-accreditation, resulting in a ten-year extension.
Before he left NGS, he was selected as "Faculty Member of the Decade," a tribute accorded to him by his colleagues, students, and alumni for his achievements as an adjunct professor. He was described as an "inspirational teacher," "a visionary," and "a selfless colleague."
At NGS he published Leading Learning and Driving Results. (2004). Falmouth, MA: National Graduate School Press and Master's Business Project: A Primer for Faculty and Students. (2003). Falmouth, MA: National Graduate School Press.